November 19, 2007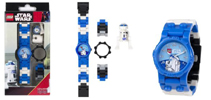 Cool New LEGO Watch
Dustin: Check out this new R2-D2 LEGO watch available at Amazon.com. Here's the description.

" Little ones will harness The Force of creativity with this innovative watch from LEGO that lets them design their own watch and change the pattern often! Sure to please any artist in the making or Star Wars enthusiast, this watch's strap comes in a variety of non-allergenic polycarbonite pieces and interchangeable bezels that click together for a personalized look. The round case features a light blue dial with cool Star Wars graphics and easy-to-read white Arabic-numeral hour indicators and stick minute markers that make telling time a cinch for beginners. Water resistant to 165 feet, this watch is as durable as it is fun. "

There's also a Luke Skywalker, Darth Vader and Clone Trooper model to choose from. Each watch is priced at $17.99, click here for more.

November 16, 2007
Save Big On Black Friday At Entertainment Earth!
Dustin: Are you ready for big savings with the best deals of the year? Stop by Entertainment Earth before you finish the turkey and save large on some awesome action figures and collectibles! Several items will be available for the sale, but only through the Thanksgiving weekend or while supplies last-- whichever comes first. Be sure to order yours Thursday morning, to get the best deals before it's too late! SALE STARTS THANKSGIVING DAY!

November 11, 2007


R2-D2 Birthday Cake!
Dustin: Today is my birthday! My wife took the time to sneak behind my back and use my very own R2-D2 cake pan to make me this delicious R2-D2 cake! Yum!

October 13, 2007


Castaway R2-D2
Dustin: This mysterious R2 unit has been washing up on shores in the Pacific ocean...



R2-D2 Pepper Mill
Dustin: Have you ever sat in front of a steaming steak and muttered to yourself, "You know Francis, that steak needs some pepper and an R2-D2 pepper mill would be just the right tool to crush those peppercorns!"

Two Star Wars pepper mills made of ABS plastic and measuring 11cm (4.33") tall are on their way to the Japanese market on February 29, 2008. Both hold about 1 oz worth of peppercorns. To crush them, twist R2's dome and flakes of pepper obediently drop from its bottom. Two variants are on offer - a blue and white R2-D2 and a black and gold R2-Q5.

R2-D2 Mailbox Stolen!
Dustin: My buddy Scott C. sent in the following link where an R2-D2 mailbox has been stolen. Apparently the culprits have no idea that it is a FEDERAL OFFENSE. Read about it all right here!



Rebelscum.com Ultarama Challenge
Dustin: This weeks contest involves naming all the R2-D2 action figures shown. Think you've got the knowledge to win it all? Click the thumbnail up top for more info on how to enter and win!

R2 Builders Return To Celebration
Dustin: Looks like the R2 builders group will be attending Celebration IV in L.A. this upcoming Memorial Day weekend. If you haven't heard of these guys or seen their display up close, you definitely want to stop in and check them out! Click here for more details on the R2 Builders at Celebration IV!



Own A R2-D2 Mailbox
Dustin: Ok, so it might not be exactly a real full sized R2-D2 mailbox, but it's as close as you're gonna get without serving time in the big house. Our good friend Bonnie over at Lucas Online has posted instructions on how you can build a cool papercraft 3-D model of the mailbox. All you need to do is print out the handy PDF they've made available and build your own droid*! Click here for more details and to download the PDF you'll need.


*Oil bath not reccommended for paper droids.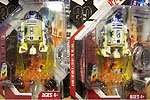 TAC R2-D2 Variation Found
Dustin: From Rebelscum.com:
"Rebelscum reader Joe Macudzinski writes in to alert variation hunters of a purple-hued blast effect he found of R2-D2 while searching for new figures. Although Joe found 4 like this, there's no word if this is an intentional change, or an error similar to the Holographic Obi-Wan Kenobi from last year."



Me & R2
Dustin: I found the R2-D2 mailbox here in Cincinnati and figured I'd get some proof.

February 21, 2007


Hasbro's Titanium Figure Line Up Cancelled
Dustin: At San Diego Comic Con last year Hasbro displayed the above Titanium R2-D2 as a future product. However it was recently disclosed at Toy Fair 2007 that the line has not performed very well and is being discontinued just short of the R2-D2 release. So if anyone has a good lead on how I can score the one in the photo above, please drop me a line ;-)

© 2005 COPYRIGHT R2D2CENTRAL.COM