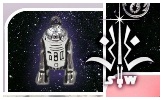 Her Universe R2-D2 Charm


Dustin on July 12, 2012 at 07:31 PM CST:

Just in time for San Diego Comic-Con, Her Universe have announced details of their R2-D2 Charm, which will be exclusive to the event, as well as next month's Celebration VI! Click on the thumbnail above for more info.

Share this page with your friends!