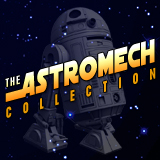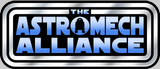 Brisk R2-D2 Cooler For The Phantom Menace In 3D
My good buddy Jad Bean spotted this new R2-D2 promo cooler at retail recently. It's for Star Wars : The Phantom Menace In 3D promotion. Looks like Pepsi Co. is pushing Brisk with this theatrical release. This R2-D2 is different from the previous two models making the grand total of 3 variations of this promo cooler over the years.


Cheerios R2-D2 Episode I In 3D Promo Pen
Posted over at Rebelscum.com earlier this week is this very cool R2-D2 pen available as a pack in with Cheerios. R2-D2 is one of eight Star Wars character pens, including Darth Maul, Yoda, a non-TPM C-3PO, Anakin Skywalker, Queen Amidala, Obi-Wan Kenobi, and Jar Jar Binks.

McDonald's Happy Meal Toy For 2010
Here's a snap of the newly released McDonald's Happy Meal R2-D2 toy. It's a clip on container of sorts, that comes with a fake tattoo. Click here to see what other cool Star Wars characters are available!

Star Wars Fan Days Kenny Baker Promo Card #6
Here's a pic of the original #6 promo for Star Wars Fan Days 3. This one featured Kenny Baker, whom had to cancel last minute, making these null and void. Another card was rolled out in its place and Ed grabbed me a few of these for the archives!

Mcdonald's Happy Meal R2-D2 Clone Wars Toy
The Clone Wars opens in theatres tomorrow at 12:01 AM and of course there's going to be a fast food promotion! This time around we see McDonald's pick up the license to offer collectible Happy Meal toys to customers from August 15th until September 11th. Shown above is R2-D2, just one of 18 toy bobble heads that will be available. Click here for more details on the promotion and to see images of all 18 bobble heads!




Kellogg's R2-D2 Mini Bust
This piece comes from a set offered through Kellogg's cereals promotion in Europe during Episode I. The set included 9 characters total. They were Qui-Gon Jinn, Obi Wan Kenobi, Darth Sidious, Darth Maul, Anakin Skywalker, Boss Nass, R2-D2, Jar Jar Binks, and C3-P0. I picked up a full set for only $5.00 roughly before S&H on ebay!