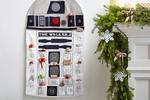 R2-D2 Advent Calendar


Dustin on September 11, 2016 at 09:15 PM CST:

This advent calendar adds excitement to the Christmas countdown – oh what fun! The exclusive Star Wars™ design features true-to-film character details for a playful addition to your holiday decorations. Available now at Pottery Barn!

Share this page with your friends!