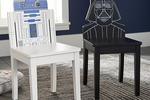 R2-D2 Play Chairs


Dustin on September 11, 2016 at 09:28 PM CST:

Sized just for kids and with iconic Star Wars™ inspired design, these chairs are the perfect addition to their playroom work tables. They'll have fun making crafts and reading stories while atop either Darth Vader™ or R2-D2™. Expertly crafted with solid rubber wood and medium density fiberboard, these chairs will effortlessly survive years of wear and tear. Available now at Pottery Barn!

Share this page with your friends!