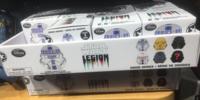 Star Wars Legion Droid Series R2-D2 Vinyl Painted Stormtrooper Helmet


Dustin on November 4, 2016 at 05:11 PM CST:

The Disney Star Wars Legion line is a series of collectible vinyl Stormtrooper helmets painted in different designs. Series three has just hit and it is droid themed, check out the R2-D2 helmet in the image above courtesy of Yakface.com!

Share this page with your friends!