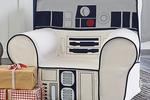 The R2-D2 Anywhere Chair


Dustin on September 11, 2016 at 09:23 PM CST:

Get your kids this iconic Anywhere Chair featuring a favorite Star Wars™ character like R2-D2™. Boasting a neutral color palette and sleek design, our chair is the perfect way to update their space with galactic-inspired comfort. Your little one can easily tote their chair around the house thanks to kid-friendly handles and our lightweight material. Make it theirs with optional personalization in up to 9 characters. Available now at Pottery Barn!

Share this page with your friends!