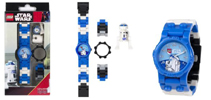 Cool New LEGO Watch


Dustin on November 19, 2007 at 10:13 PM CST:

Check out this new R2-D2 LEGO watch available at Amazon.com. Here's the description.

" Little ones will harness The Force of creativity with this innovative watch from LEGO that lets them design their own watch and change the pattern often! Sure to please any artist in the making or Star Wars enthusiast, this watch's strap comes in a variety of non-allergenic polycarbonite pieces and interchangeable bezels that click together for a personalized look. The round case features a light blue dial with cool Star Wars graphics and easy-to-read white Arabic-numeral hour indicators and stick minute markers that make telling time a cinch for beginners. Water resistant to 165 feet, this watch is as durable as it is fun. "

There's also a Luke Skywalker, Darth Vader and Clone Trooper model to choose from. Each watch is priced at $17.99, click here for more.

Share this page with your friends!




Stories Related To This Story
April 10, 2016
R2-D2 Wrist Watches By Nixon
April 5, 2016
R2-D2 LCD Watch With Collectible Tin
October 13, 2012
R2-D2 Watch By Seiko
August 20, 2011
Motorized LEGO R2-D2
September 23, 2010
Japan GSX SMART Style no.36 R2-D2 Watch
September 23, 2010
Japan GSX SMART no.74 R2-D2 Watch
February 13, 2010
Kids' R2-D2 Remote Control Watch
October 18, 2009
Custom Electronic R2-D2 LEGO Minifig
June 29, 2009
Three Different LEGO R2-D2 Variations
August 1, 2008
Aluminum LEGO Brick Engraved With Artoo
August 1, 2008
Wesco R2-D2 Remote Control Whizz Watch
May 20, 2008
R2-D2 LEGO Build
March 4, 2008
Attack Of The Giant R2-D2!
June 6, 2006
Vote For LEGO R2-D2!
March 11, 2006
Pre-Production R2-D2 Watch
March 10, 2006
Light Up Your LEGO!
October 22, 2005
R2-D2 LEGO Clip Pen
February 6, 2005
1995 POTF2 R2-D2 Hope Watch