TOMY Remote R2-D2 Available Online


Dustin on June 28, 2005 at 07:48 PM CST:

Available exclusively to Hyperspace members until Friday, July 1st. Thereafter, if the product has not sold out, it will be opened up to all customers.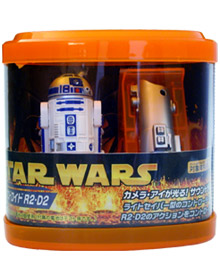 This miniature remote control R2-D2 from Japan is just about the same scale as the Hasbro action figure version, but includes all the bells and whistles (literally!) that has made R2 a favorite among fans. As the official and exclusive U.S retailer for this collectible, this one will be hard to find elsewhere

With the mini-lightsaber remote, R2 will move forward or turn on command, rotate his dome as he rolls, beep and whistle, and illuminate his photo-receptor "eye". Not since the 1978 Japanese/Canadian exclusive wind-up R2 has such a cool item come along for fans and figure collectors. R2 measures approximately 2.5" tall, and includes batteries for the remote and R2 himself.

Window box packaging attractively displays both R2-D2 and the lightsaber remote, and includes the stunning "Vader in Flames" graphics that mesh with the U.S. carded Episode III action figure line. This is one toy you'll definitely want to take out of the package, though.

Click here to order today via Starwarsshop.com!

Share this page with your friends!