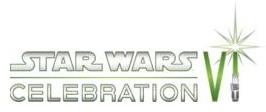 Celebration VI R2-D2 Merchandise Round Up


Dustin on August 9, 2012 at 09:42 PM CST:

Starwarscelebration.com have updated their website with all of the official store merchandise that will be available at Star Wars Celebration VI. I've sorted out the R2-D2 pieces for you, check it out!






Limited Edition Deluxe Pin 3: R2-D2 and Jawa - $40
Utinni! This deluxe pin features the official 'Join the Party' artwork and comes in a custom box.






Celebration VI 'Join the Party' Poster - $10
This will be a party to remember, and this frameable print of the official 'Join the Party' art is the perfect keepsake.





R2-D2 Pullover Hoodie -$50
Everyone's favorite astromech droid as a hoodie. Fussy gold sidekick not included.






"Join the Party" T-Shirt - $30
Looks like there's a party in your pants.





How to Draw R2-D2 T-Shirt -$30
Looks like it only takes 12 steps...






R2-D2 Baby Body Suit & Cap Set -$25
Cosplay for the tiniest fans ? dress your youngling as an adorable astromech.



Be sure to check out a complete list of the merchandise with prices and images at Rebelscum.com!

Share this page with your friends!

Stories Related To This Story
February 15, 2015
Celebration Anaheim Exclusive Collectible Pin By Norse Legion Clothing
July 30, 2012
Star Tots R2-D2 Celebration Giveaway
July 30, 2012
R2-D2 Featured On Celebration VI 4 Day Child Badge
June 5, 2012
Kenny Baker Attending Star Wars Celebration 6
August 3, 2010
eBay Auctions Help Fund Celebration V
December 12, 2008
Celebration Japan Exclusives Available At Official Pix
October 10, 2008
R2-D2 Celebration Medallion Holder
August 1, 2008
Celebration Japan R2-D2 Mail Box
July 19, 2008
Clear Remote Control R2-D2 Celebration Japan Exclusive
June 19, 2008
UPDATE: Celebration Japan Exclusive Features R2-D2
May 14, 2008
Celebration Japan Medallion Features R2-D2
December 4, 2007
Celebration 4 R2-D2 Gold Medallion
December 4, 2007
Celebration Europe R2-D2 Medallion
December 3, 2007
Celebration 4 R2-D2 Medallion
June 22, 2007
Cool Custom Collectible From Celebration
April 28, 2007
Celebration IV Exclusive Action Figure Includes R2-D2
April 28, 2007
R2 Builders Return To Celebration
January 16, 2006
R2 Builders Celebration III DVD
August 15, 2005
Celebration III Volunteer Badge
April 30, 2005
Celebration III R2-D2 Gallery
April 2, 2005
Celebration III Is Gonna Rock!
January 23, 2005
R2 Builders Celebration III T-Shirt Offer
January 11, 2005
R2-D2 Builders Club Returns to Celebration III
September 23, 2004
Star Wars Celebration III Registration
May 4, 2003
Celebration II : A Look Back