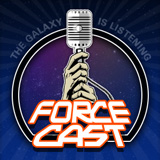 ---
---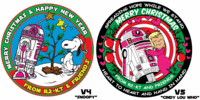 R2-KT Christmas Patches For 2013

Team R2-KT are now taking orders for the new 2013 Charity Christmas patches. All three benefit the Toys-for-Tots. Click on through for all the details on how to add these great items to your patch collection!


---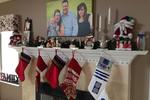 R2-D2 Christmas Stocking

Here's another recent release my wife picked up for me at Target. I've already got it hanging by the fireplace!


---


LEGO Star Wars R2-D2 Minifigure Flashlight

This 3-inch tall Minifigure key chain features poseable arms and light angling legs so you can move them up and down to move the light wherever you wish. My wife found this one at Target I believe. You can also order this item online right here.


---
Great Holiday Deals At Entertainment Earth!

I figured since today is Black Friday and I'm couch locked doing my shopping online, I'd share some great deals I found over at Entertainment Earth. Click on through for the full list of items!

---



Hasbro Black Series Six Inch R2-D2 50% At Amazon

Updated! Now Save 50%! R2-D2 is a plucky and loyal astromech droid that takes part in many of the momentous events in the galaxy. Re-create the biggest battles and missions in the Star Wars epic with figures from The Black Series! This 6-inch figure is carefully detailed to look like R2-D2, the droid that helped Princess Leia and Luke Skywalker in their efforts to fight the Imperial forces. Your collection – and your adventures – won't be complete without him! Order yours today and SAVE 50% right here at Amazon.com!

---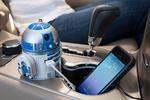 R2-D2 USB Car Charger From ThinkGeek

No need to go to Tosche Station with this R2-D2 USB Car Charger with two USB charging ports each of which provide 2.1 Amps. Enough to charge 2 tablets simultaneously!

---
---


R2-D2 Minimalist Vintage Character Portrait

I've finally scored one of these cool prints from Etsy shop "TheGeekerie". This fine art print is a grungy, modern art illustrated take on the popular droid R2-D2 from the Star Wars universe. This print would make a great addition to any geek den, living room, office space, or bedroom wall. Click here to order, and check out all of the other Star Wars prints available!

---
---
eMail | Collecting HQ