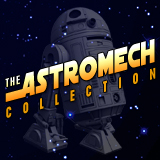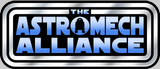 STAR WARS R2-D2 Japanese Donabe Earthen Pot
|

Here's some kind of ceramic cookware from Japan I recently found on eBay. Seriously what's left to be made into R2-D2?!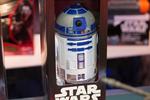 Hasbro The Force Awakens 12-Inch R2-D2
|

Here's a cool R2-D2 from Hasbro that I apparently missed. The photo above is from Rebelscum.com's Toy Fair coverage back in February. Click on through for more detailed information on how you can order yours! Full Report!


R2-D2 Zebco Spincast Combo Fishing Pole
|

The force is definitely strong with this combo. Available in the spring of 2016, the special edition Star Wars R2-D2 Zebco Spincast Combo will retail at $19.99.


R2-D2 Backpack
|

Pack for any occasion with this Star Wars R2-D2 Backpack! Designed after the iconic service droid's appearance, this handy bag features 3 areas for storage. Drawstring adjustable main compartment, 2 exterior compartments, snap button closure, handle, and adjustable shoulder straps. So beep-boop-boop and order yours today right here at EntertainmentEarth.com!



R2-D2 Tsum Tsum Plush
|

The droid you're looking for is now an adorable Mini ''Tsum Tsum'' Plush that is certain to stack up against any astromech in the galaxy! Grab 'em at Disney!


Tony Hawk Was R2-D2 For Halloween In 1978
|

Well it seem that world renown professional skateboarder Tony Hawk is a Star Wars fan, and more importantly a R2-D2 fan! The photo above was posted to his Facebook page along with the following text. "Halloween 1978: my dad made this R2D2 costume for me out of styrofoam, with an opening for candy. I only made it 2 blocks before some big kids crushed the top and knocked me over."


R2-D2 USB Wall Charger
|

While we don't yet have the technology in this quadrant of the galaxy for fully-automated repair droids like the R2 units from Star Wars, we can get a portion of the R2's versatility into something small enough to plug into your wall socket. Full Report!


R2-D2 AC And USB Power Station
|

It might be wise to use the Force, but the Force ain't going to charge your gadgets. Instead power them with this little R2 unit. In this case, we're talking about the power of (you guessed it) electricity. Full Report!


Star Wars R2-D2 TV Remote Control
|

The Star Wars branded remote controls are available in ten iconic characters including: Darth Vader, Storm Troopers, R2-D2, C-3PO, Luke Skywalker, Princess Leia and Han Solo. Customers can use their Star Wars branded remote control to find their favourite movie from the iconic collection to watch on demand or via the dedicated Star Wars channel. Full details here!
eMail | R2D2Central.com