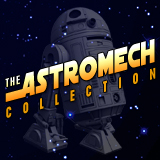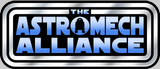 R2-D2 Lanyard Is Perfect For Conventions
|

I've gone to a lot of conventions over the years, and I've only seen one or two fan made R2-D2 lanyards created by other R2 fans. This however is the lanyard you are looking for! This R2-D2 Lanyard features a cool graphic design and a detachable key chain, and comes equipped with a safety latch to help prevent a choking hazard. Grab one for the next show right here!


R2-D2 Oven Mitt
|

Whether you're turning a well done Tauntaun steak over a bare lightsaber blade, or pulling a dish of blue milk mac and cheese from the oven, this droid glove will keep your hand safe from the heat. Modelled after R2-D2's iconic look from the original trilogy, this fabric oven glove is kitchenware for a more civilized age. Order your own Star Wars R2-D2 Oven Mitt from Entertainment Earth!




STAR WARS R2-D2 Japanese Donabe Earthen Pot
|

Here's some kind of ceramic cookware from Japan I recently found on eBay. Seriously what's left to be made into R2-D2?!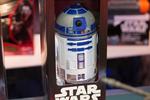 Hasbro The Force Awakens 12-Inch R2-D2
|

Here's a cool R2-D2 from Hasbro that I apparently missed. The photo above is from Rebelscum.com's Toy Fair coverage back in February. Click on through for more detailed information on how you can order yours! Full Report!


R2-D2 Zebco Spincast Combo Fishing Pole
|

The force is definitely strong with this combo. Available in the spring of 2016, the special edition Star Wars R2-D2 Zebco Spincast Combo will retail at $19.99.


R2-D2 Backpack
|

Pack for any occasion with this Star Wars R2-D2 Backpack! Designed after the iconic service droid's appearance, this handy bag features 3 areas for storage. Drawstring adjustable main compartment, 2 exterior compartments, snap button closure, handle, and adjustable shoulder straps. So beep-boop-boop and order yours today right here at EntertainmentEarth.com!
eMail | R2D2Central.com